Tony Carter is a character in 
Doctor Who: The Further Adventures
 . He is the brother-in-law of The Doctor's companion 
Laura Andrews
. He is portrayed by the actor Neil Patrick Harris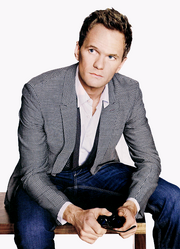 At some point he married Emma Andrews , Laura's elder sister. He lives with her in New York in a penthouse apartment and has a well paid job that no one is quite sure exactly what it is he does.
Appearances
Edit
Write the second section of your page here.
Tony's name comes from the fact Neil is a regular host of the Tony Awards.
His wife, Emma, is played by Jayma Mays. This is not the first time Jayma and Neil have been a couple on screen, this has happened in The Smurfs. Jayma has also guested on How I Met Your Mother with Neil, and Neil has guested on Glee, but not as a couple.