Jurassic World: Dominion Dominates Fandom Wikis - The Loop
Play Sound
{{#if:-| Laura Andrews is a companion of The Tenth Doctor in 
Doctor Who: The Further Adventures
. She is played by actress Mary Elizabeth Winstead.
History
[
]
Laura grew up in Los Angeles with her parents and elder sister, Emma. Her father died of cancer when she was young and Laura resents her mother for moving on too quickly and marrying a new man and refuses to accept him. However, she does have a strong relationship with her sister and they spend Christmases at Emma's. She attended The University of California with Zach Morrison and studied Geology.
Personality
[
]
Laura is a smart, strong young woman. However, she doesn't just rush into things and would much rather let things take their natural course, as she did with her relationship with Zach. She will take her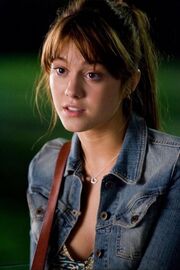 time in working out what do to do. Being pressured flusters her. Laura is always the one who will tell Zach off when he says the wrong thing or starts to ramble. Like Zach she is scientifically curious.
Travelling with The Doctor
[
]
Laura invited Zach and herself into The TARDIS in a rare impulsive moment following their multiple meetings with The Doctor and helping defeat the Isopti invasion under the University Library.
Relationships
[
]
Zach and Laura grew up together and she's always liked him and he's always liked her. However, she decided that she was going to wait for him to make the move and he finally did in The Labyrinth Hotel. She chided him for taking so long and it required the threat of imminent death to kiss her at last.
Laura Andrews
The Further Adventures
Portrayed by
Mary Elizabeth Winstead
Duration
2011-Present
First appearance
Infestation
Last appearance
-
Cause/Reason
-
Created by
Amazingchi
Profile
Species
Human
Romances
-
Gender
Female
Age
21