Jurassic World: Dominion Dominates Fandom Wikis - The Loop
Play Sound
{{#if:Series Ended|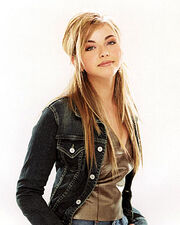 Carys Young was a companion of The Thirteenth Doctor in Time & Space. She was played by Charlotte Church.
Personality
[
]
Carys is a lively, funny and kind-hearted woman. She is fascinated by The Doctor, and feels her travels with him are the escape that she has been looking for. Carys is very witty, and often makes several references to pop-culture including Meryl Steep, Tom Cruise and Steps. She is a feisty woman, and has been known to clash with Florence Nightingale (Florence and the Machines) and Aqua (Confessions of a Meglomaniac) - however she is not that fiesty as a character, she is infact the opposite. She got on particularly well with Queen Sareesh (Viva La Valisarri), who she remarked was not as she expected. 
Meeting the Doctor
[
]
Carys met the Doctor after herself and best-mate Jamie were transported to Lunux - where a royal Maddux, was planning to marry her in order to continue the family bloodline. After being trapped in a dungeon, the duo were later rescued by The Doctor; Carys was later captured once more, however she was able to convince Maddux that she wasn't the bride for him - and that marrying her would be a mistake. The Doctor impressed by Carys's ability to talk herself out of a dangerous situation, and invited her aboard the TARDIS.
Relationship with Kevin Matthews
[
]
Carys had been going out with Kevin Matthews - a Rugby Player, however the relationship came to an end after Kevin had cheated on Carys with Veronica Black. Carys was heartbroken at splitting with Kevin, and had plotted to get revenge on him at an awards ceremony (Heartbreaker). She then discovered had planned to marry her - and Veronica was determined not to let Carys interfere, as they both had a confrontation in the toilets. Kevin was later ran over by a Taxi - and Carys temporally left the TARDIS to grieve.
Return to the TARDIS
[
]
Carys returned to the TARDIS in Confessions Of A Megalomaniac, where she and the Doctor visited Dreamcatcher 237 - a space base on which alien creatures the Drakkons were feeding on unsuspecting visitors.
Carys Young
Time & Space
Portrayed by
Charlotte Church
Duration
2013- Present
First appearance
Carys
Last appearance
Six Degrees Of Separation
Cause/Reason
Series Ended
Created by
Cybertrash
Profile
Species
Human
Romances
Series Ended